Home
Talk

0
817pages on
this wiki
The Once Upon a Time Wiki

Next on Once Upon a Time... "Bleeding Through"!
Next on OUaT




Bleeding Through




After Zelena steals Regina's heart, the latter casts a spell so that she can speak across the realms to her dead mother, Cora, in order to discover the truth about why she abandoned her first born, and Belle stumbles across what the Wicked Witch's ultimate end game is. Meanwhile, in the fairytale land that was, young Cora is duped by a man claiming to be a prince and finds herself alone and pregnant, but a chance meeting with a real prince could lead her to the royal life she's always craved. However, she must keep her pregnancy a secret or risk losing everything.


Read more...

Fairest Character of Them All




Peter Pan, previously known as Malcolm, is a supporting character on Once Upon a Time. When he was a boy, he would visit the magical land of Neverland in his dreams and became obsessed with the prospect of flying. But then he grew up and had a son named Rumplestiltskin, someone to remind Malcolm that he was no longer a child and could no longer visit Neverland. Opportunity soon arose, however, and father and son, by aid of a magic bean, returned to the land in which they would never grow up, but Malcolm still couldn't fly. To overcome the setback of being an adult, he sacrificed his son to the mysterious shadow, sending him back to the Enchanted Forest whilst regaining his own youth, adopting the new identity of Peter Pan. But like all magic, this came with a price - Pan's youth and life-force became contained within a sand-timer, and should it run out, Malcolm will die. This inspired him to begin his grand search for the heart of the truest believer, so that he could fully gain immortality. In the meantime, he got lonely, and so he kidnapped children from around the realms, naming them Lost Boys and making himself their leader.

Read more...

Latest Photos




News




Loading RSS data...

Refresh

OUaT Quotes




Uh, Red. You've got someone on your chin.

Grumpy

Refresh for another quote




Affiliations



Polls
What did you think of "The Jolly Roger"?
IN THE LAST POLL we asked:
What did you think of "It's Not Easy Being Green"?
35 people (97.22%) said "Amazing".
What did you think of "And They Lived..."?
IN THE LAST POLL we asked:
What did you think of "To Catch a Thief"?
8 people (53.33%) said "Amazing".
Next Episode
About OUaT
The Evil Queen trapped fairytale characters in the real world, and it is up to bail bonds collector Emma Swan to save them all.

Loading RSS data...
Create blog post
Blogs
This article contains episode summaries for the spin-off of Once Upon a Time, titled Once Upon a Time in Oz.





Alexis Bledel - Dorothy (13/13)
Gale Harold - Scarecrow (13/13)
Neil Hopkins - Tinman (13/13)
Se…



Read more >
See more >
Fairest Episode of Them All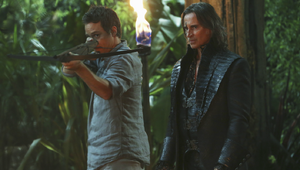 Mr. Gold makes a decision to confront Pan, but will he go there to save Henry or give in to the prophecy that the boy will be his undoing? Neal finds himself back in Neverland and in the custody of one of Pan's most loyal Lost Boys, and David struggles for his life as the poison continues to take its toll on him. Meanwhile, in the fairytale land that was, Rumplestiltskin goes in search of a missing Bae, who has followed a mysterious figure who steals away children with his music.
Read more...
Did You Know..?