Home
Talk

0
817pages on
this wiki
The Once Upon a Time Wiki

Next on Once Upon a Time... "A Curious Thing"!
Next on OUaT




A Curious Thing




While things begin to heat up between Regina and Robin Hood, Zelena threatens to kill Henry if Hook - whose lips have been cursed by her - doesn't proceed with kissing Emma, an act that would drain all of her magical powers away. Meanwhile, back in the fairytale land that was during the past year, Snow and Charming go in search of Glinda, the Good Witch of the South, to see if she can help them defeat Zelena, and the curse that will ultimately send the fairytale characters back to Storybrooke is cast... but from an unlikely source.


Read more...

Fairest Character of Them All




Peter Pan, previously known as Malcolm, is a supporting character on Once Upon a Time. When he was a boy, he would visit the magical land of Neverland in his dreams and became obsessed with the prospect of flying. But then he grew up and had a son named Rumplestiltskin, someone to remind Malcolm that he was no longer a child and could no longer visit Neverland. Opportunity soon arose, however, and father and son, by aid of a magic bean, returned to the land in which they would never grow up, but Malcolm still couldn't fly. To overcome the setback of being an adult, he sacrificed his son to the mysterious shadow, sending him back to the Enchanted Forest whilst regaining his own youth, adopting the new identity of Peter Pan. But like all magic, this came with a price - Pan's youth and life-force became contained within a sand-timer, and should it run out, Malcolm will die. This inspired him to begin his grand search for the heart of the truest believer, so that he could fully gain immortality. In the meantime, he got lonely, and so he kidnapped children from around the realms, naming them Lost Boys and making himself their leader.

Read more...

Latest Photos




News




Loading RSS data...

Refresh

OUaT Quotes




I'm sorry, did you not want people to know you cut his cord with a shiv?

Regina Mills

Refresh for another quote




Affiliations



Polls
What did you think of "Bleeding Through"?
IN THE LAST POLL we asked:
What did you think of "The Jolly Roger"?
31 people (79.49%) said "Amazing".
What did you think of "And They Lived..."?
IN THE LAST POLL we asked:
What did you think of "To Catch a Thief"?
8 people (53.33%) said "Amazing".
Next Episode
About OUaT
The Evil Queen trapped fairytale characters in the real world, and it is up to bail bonds collector Emma Swan to save them all.

Loading RSS data...
Create blog post
Blogs
I have to go. I have to leave this community, as best as I can. I can't leave my friend-fiction unfinished again and hopefully now that I won't be lurking around in chat I will actually get my recaps…

Read more >
See more >
Fairest Episode of Them All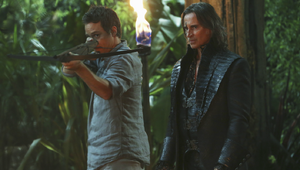 Mr. Gold makes a decision to confront Pan, but will he go there to save Henry or give in to the prophecy that the boy will be his undoing? Neal finds himself back in Neverland and in the custody of one of Pan's most loyal Lost Boys, and David struggles for his life as the poison continues to take its toll on him. Meanwhile, in the fairytale land that was, Rumplestiltskin goes in search of a missing Bae, who has followed a mysterious figure who steals away children with his music.
Read more...
Did You Know..?
Ginnifer Goodwin and Josh Dallas, who play Snow White and Prince Charming respectively, are a real-life couple and are currently engaged and expecting a child together.
Once Upon a Time and its spin-off feature multiple actors and actresses who appeared on the TV series Lost, which co-creators Edward Kitsis and Adam Horowitz previously wrote for. These include: Lana Parrilla, Alan Dale, Emilie de Ravin, Jorge Garcia, Rebecca Mader, Naveen Andrews and Zuleikha Robinson.
Prince Charming was originally meant to have died in the pilot episode.
Robert Carlyle's high-pitched speaking voice as Rumplestiltskin was inspired by his son.
Co-creators Edward Kitsis and Adam Horowitz have hinted that the future of the show may include appearances by Elsa and Anna from "Frozen", Merida from "Brave", and Cruella Deville from "101 Dalmatians".