Name
Mayor Tomkins
Season(s)
S1
-
S2
-
S3
-
OW
-
S4
-
S5
-
S6
-
S7
Mayor Tomkins is the mayor of the small village that became plagued by a powerful wolf. He appeared in "Red-Handed".
Biography
Before the Curse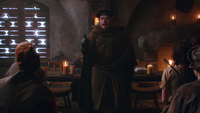 Mayor Tomkins hosts a village meeting. ("Red-Handed")
Red's village is at a rage at the deaths of the wolf-hunt team at the paws of the wolf, the leader of the group assures the village that the previous night was the very last massacre. "If I had stayed with that party for another two minutes, I, too, would be among the dead." the leader tells them, Granny is seen entering the room, with Red and "Mary" not far behind her, as the leader babbles on about how he could have killed the wolf, Granny walks further into the room, and Red smiles at Peter who is amongst the rest of the villagers. "Maybe... I would have been able to slay the creature." the leader finishes, "You would not!" Granny exclaims, "Widow Lucas..." he says, "This creature is more powerful than you can imagine, you wouldn't have a chance. Stay inside! Hide your children! Forget your livestock!" she tries, she is reminded that she's said all of this before but Granny reminds the people that she hasn't said how she knows. She then tells the group the story of her encounter with a wolf. ("Red-Handed")
Ad blocker interference detected!
Wikia is a free-to-use site that makes money from advertising. We have a modified experience for viewers using ad blockers

Wikia is not accessible if you've made further modifications. Remove the custom ad blocker rule(s) and the page will load as expected.